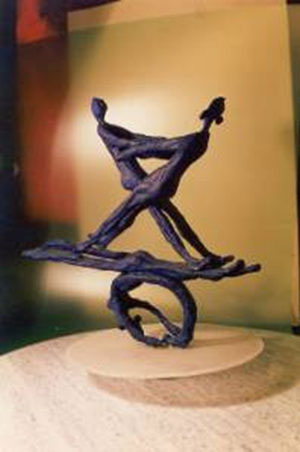 :Our Universe is Infinite

:To represent in the form of a sculpture,

structure or architecture the above theme.

The material world was created the moment Adam was tempted to take a bite of the forbidden apple.  Sadly to say,  this is the beginning of an end to immortality for mankind, which is not the initial intention of God, I think.

While God created the material world, he also simultaneously created the spiritual world where eternity still exists. It is in this world where man would continue to dwell in the minds and thoughts of others,  for the love and respect he earned during his life-long voyage through the material world. Unfortunately, there are no other ways to eternity and not many had come close to discovering it during their lifetimes.

The world that we live in now is the material world. It is a place where an object/person is nothing without a name or a brand, and  worthless without a number or a symbol. The only way to communicate to our fellow beings that "the Universe is infinite", is to tell them in a way that they can recognise - in the form of symbols and numbers, X/0 = Infinity.

This statue which will be put in the famous Pigalle in France, hopefully can remind ordinary men on the street that the many temptations surrounding the place could just be another "Forbidden apple tree" waiting to corrupt them if they are not careful.